Types of Truck Tires
When you're looking for truck tires, there are many options to choose from depending on your region's climate, the kind of driving you like to do, and other variables. While your local AutoNation service center can help you find the perfect tire for you, this handy guide can get you started down the road to understanding truck or SUV tires!
If your vehicle is all-wheel drive or a 4×4, then you'll want to keep the tires the same on all four wheels. However, if you own a single-axle drive vehicle (such as front- or rear-wheel drive) then you can differ tire size, tread, and type between wheels on the front or rear axle, though both tires on the same axle should be the same.
"Truck" Tires
Truck tires can be used on a truck, SUV, or CUV. While offering some heavy-duty or off-road capability, truck tires do come with improved handling, ride, and noise capabilities over off-road, all-terrain, or mud tires.
Truck tires are for truck, SUV, or CUV owners who do more street or highway driving than off-roading, and are good for most climate conditions, as many are all-season tires, too.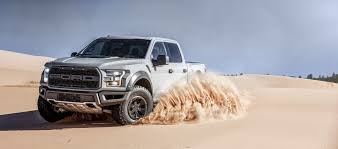 Off-Road
Off-Road tires offer supreme performance on sand, gravel, mud, and rocky terrains. They offer larger and deeper sipes (treads) so that they can grip and obtain maximum traction on uneven surfaces. However, off-road tires are much noisier on roads and can have very poor ride quality at highway speeds.
Off-road tires are for drivers who frequently find themselves without pavement or with rocky terrains in their paths. They were designed for uneven or unpaved terrains, include improved puncture resistance, and are often all-season, but aren't great on the paved bits between home and adventuring.
All-Terrain
All-terrain tires offer the best of touring and off-road tires. They are quieter and more smooth on highways or paved surfaces than off-road tires and are better at handling wet, rocky, muddy, or sandy situations than normal truck tires. Just as with all-season tires for cars, all-terrain tires are good any time of year and on most driving surfaces.
If you enjoy equal parts off-road and paved surfaces, then the all-terrain tire is for you. It offers a happy balance of off-road tire capability while ensuring paved surfaces aren't a nightmare.
Mud Tires
Mud tires have wider and deeper treat gaps and blocks, offering more space for mud or uneven surfaces to squeeze through. The squeeze and release of debris, such as sand, mud, or rocks, ensures that drivers leave the dirty stuff on the road and not clinging into the tire's treads. The narrow blocks and gaps on all-season or all-terrain tires may not release clumps of mud or rocks as easily, decreasing traction on uneven surfaces.
Mud tires are for drivers that often see uneven and unpaved road surfaces, but don't need rock-crawling performance. These tires will offer some protection against punctures, but will be worse on paved surfaces than all-terrain or truck tires.

Winter Tires
Similarly to car tires, winter truck tires offer improved performance in snowy or icy conditions over all-terrain tires. They offer softer rubber that won't freeze in the cold, have improved traction on snow, and can even come with studs for griping icy roads.
Winter tires are for drivers that face extreme winter weather, such as long-term or heavy snow and ice. For convenience, it's easiest to have a spare set of wheel rims for each set of tires, such as one wheel set for all-terrain tires and one wheel set for winter tires.
Heavy Duty Tires
If you're the kind of truck, SUV, or CUV owner that likes to haul trailers or max-out the payload capacity of your vehicle, then heavy duty tires are for you. These tires offer commercial vehicle reliability for everyday driving.
Heavy duty tires are for the CUV, Truck, or SUV owner who works commercially. They offer supreme durability and longevity, and are capable on highways or on the job site.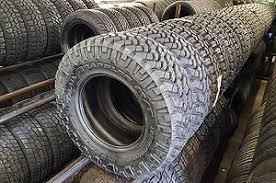 The differences of Passenger and Light Truck rated tires
When we look at the load rating the tire is very safe as we have exceeded the requirments. Now some people may want to call me an idiot as I have installed a lower speed rating on my truck from factory, please don't stop reading now. This definitely can be a concern for a tire shop by taking on this liability, in fact most tire shops will tell you they won't install this tire on your truck.
Please find below a summary and more details on the differences of Passenger and Light Truck rated tires;
1. P tires refer to Passenger tires and LT refers to Light Truck tires.
LT tires are constructed of more tread ply's. Tread ply's are the layers of material found inside of the tire(see featured image) LT tires are made with tread ply's of 6(C), 8(D),10(E) or 12(F). P tires only have a 4(B) ply load range.
2. P rated tires are lighter weight when compared to LT tires.
The extra rotational weight also steals more power from the engine for acceleration and will increase the length of your emergency stops. If economy or vehicle performance is high on your list P rated is the best option. In a comparison of the General Grabber AT2 tire, the P rated tire is 41.7 lbs when the LT(10 ply) rated tire is 48.5 lbs.
3. P rated tires offer a smoother ride quality and better bump absorption.
Feel the small cracks and bumps on road way more with LT rated tires. Please note LT tires usually run higher tire pressures which can also be a factor of this feedback. If smooth ride is high on your list P rated is the best option.
4. LT tires are stronger when compared to the P rated tires.
Due to the tire having more tread ply's and in some cases even more sidewall tread ply's you can get higher load ratings and more tire durability. I primarily use LT rated tires because I carry a lot of weight when overlanding and drive on terrain with jagged rocks and sharp sticks. If a high load rating or tire resistance to punctures is high on your list LT rated is the best option.
5. LT tires can offer 3 ply sidewalls while all P rated have 2 ply side walls.
A common weak spot of our tires when offroading is the sidewall. When going with a LT rated tire you can find companies that upgrade from a 2 ply to a 3 ply sidewall, this can help reduce tires punctures. If resistance to sidewall punctures is high on your list LT rated tires with 3 ply sidewalls are the best option.
6. LT tires are made of more aggressive treads than the P type tires.
This may be a generality but it is very rare to get mud terrain treads in a P rated tire. All terrain and Hiway tire treads can be found in most cases P and LT rated tires. However an example like the BFG All Terrain KO2 is only available in LT rated versions.
7. P rated tires have better tread wear warranty
This is a generality, however it is much easier finding a tread wear guarantee from a tire manufacturer when you buy P rated vs LT rated tires.
If you are torn between which is best for you, don't forget about LT rated 6 ply tires. These usually come with a 2 ply sidewall and are a nice middle ground between P rated tires and LT rated 10 ply tires.
What to Do if You Witness a Tire Blowout
One of the reasons tire blowouts are so dangerous is because they don't just affect the truck and the vehicle they collide with. The debris can fly into the path of nearby vehicles, causing secondary accidents. Below are a few tips to keep you safe:
Keep your distance. It's never a good idea to drive too close to a semi-trailer. Beyond the risk of a blowout, you also have to consider other mechanical failures, the truck's load, and its blind spots. If you can, it's always best to avoid driving side by side with a large truck. If you are driving behind a large truck, allow plenty of distance.
Move over. If you see a tire blowout, move away from the truck as quickly and safely as possible. Do not slam on your brakes or drive into the path of another vehicle. This can cause an accident on its own. If you are behind the truck, slow down in a safe and controlled manner.
Buckle up. In the event of an accident, your odds of survival are much higher if you are wearing your seatbelt. No matter how far you drive, or how slow you go, always wear your seatbelt. The NHTSA reports that nearly 10 percent of vehicle occupants do not wear their seatbelts.